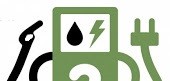 A golf car is a significant purchase, and involves making a critical selection between a gas golf car and an electric golf car. Golf cars can make all the difference in your riding experience, but not everyone knows the difference between the two. Gas and electric are the two main types of golf cars. Which one is right for you?
     The decision process is similar to what one would go through when choosing between a gas or electric grill, weed eater, lawnmower, blower and even a car for that matter. The pros and cons and advantages vs. disadvantages of the two types of golf cars must be carefully reviewed and evaluated before a purchase. Here are some comparisons between the two to help you make the best decision for your particular needs.
     To get started, gas-powered golf cars need gasoline to operate. On the other hand, electric golf cars utilize rechargeable batteries which require charging after each use. So, a gas unit can go as long as you have fuel, and upon refueling, one can continue on their fun. Electric golf cars, however, can only run as far as the battery pack allows (dependent upon battery size and type, typically around 2.5 hours of continuous use, or 4-5 hours of start and stop use, many options to increase run time). You also must wait while they charge before using them again.  So from a length of operation at one time, gas is the better choice here.
     You'll want to think about the noise the golf car will generate, gas golf cars are much noisier than electric. In addition, electric golf cars don't require refueling so the main money saver here is gasoline. On the other hand, the batteries average a lifespan of 5-8 years, so these will need replacing depending on maintenance and usage. On the up side, you'll save on routine maintenance such as oil changes and tune ups and the fuel of course.
     Although gas prices are at an all time low, the cheapest gas is the type you don't have to buy at all, and of course they are much better for the environment then gas powered golf cars. Used gas golf cars average $800-$1000 more than the same year and model electric golf car. New gas and electric golf cars are close in cost.
     While easy on the pockets and nature they do not pull as much horsepower as the gas carts.  Electric having a 3-5 HP range, while gas carts range between 10-12 HP, but with Yamaha just introducing the all new AC Powered Electric Yamaha Golf "Sports" Car with double the power of the competition, one will question which feels more powerful. Come test drive and tell us what you think.

     So, if you still need expert help on deciding whether an Electric or Gas Golf Car suits your needs and your preference, contact us and we'll be happy to help you determine the best YAMAHA option for you.