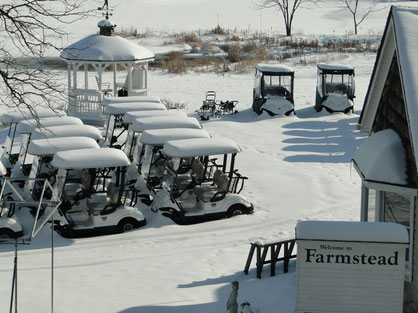 For owners of any electric golf car, it is important to continue to service the batteries throughout prolonged winter storage.
For winter storage, batteries must be clean, fully charged and disconnected from any source of electrical drain.
For all vehicles, set the key switch to "OFF". For  Yamaha Drive/G29 Models, and other units equipped with a Run/Tow Switch, make sure the 'Run/Tow' switch is set to the "Tow" position; if left in the "Run" position, it will drain the batteries.
As with all electric vehicles, batteries must be checked and recharged at a minimum of 30 day intervals or as needed. You do not need to have your vehicle continuously plugged in and charging over the duration of long term storage. However, there are systems available that will offer a "trickle charge" feature.
Yamaha Drive(G29) model chargers are designed to check the battery pack voltage every 14 days in which the charger is consecutively plugged in to the golf car. If needed, the charger will turn itself on, running through a complete charge cycle. Do not completely rely on this feature. If possible, check the cart yourself every 30 days. A possible electrical surge or charger malfunction might prevent the charger from operating correctly.
     Keep in mind that all batteries will self discharge over any time in storage. This discharge rate depends on the ambient temperature and the age and condition of the batteries. Keeping your battery pack fully charged in freezing temperatures will prevent your electrolyte solution from freezing.
     For More Information or questions about a particular model golf car Please Contact Us, also click below for a video on standard battery maintenance. Thank you for visiting us.
---